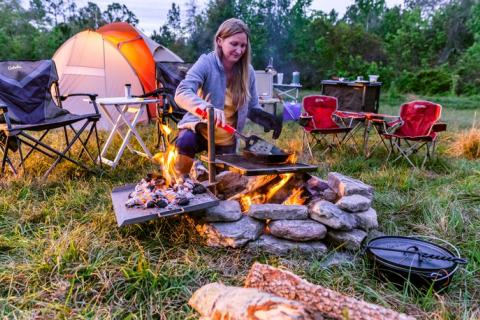 The right seating can mean the difference between a comfortable camping experience and one that is not. Bass Pro Shops and Cabela's offer a line up camping seating options that cover all the bases.
Finding the right camping chair options is an exercise in balancing what you'd like to spend with the attributes you need. If you plan to backpack into the backcountry, you'll likely opt for an adventure camp chair that is light weight and compactible (able to be stored and carried in a small package).
The Ascend Rest/Light Camp Chair headlines our adventure camping chairs. Weighing only 2 lbs. and 7oz. and packing down to 15.9"x3.9"x4.9", the Rest/Light boasts an impressive weight capacity of 250 pounds.  
If you need to outfit your family for a camping adventure, you'll have a few more options. You might want to consider comfort, durability, price point and perhaps even what other outdoor activities your chairs may make possible for you to enjoy. Here is a breakdown.
Family Camping Chairs
When it comes to family camping, chair comfort is the priority. Because you will likely drive to near your campsite and offload your equipment where you plan to stay, weight and compactibility are less of a consideration than seating needed for adventure or hunt camp.
The price points and feature sets of the chairs listed below vary. As a general rule, higher quality chairs will cost more. They will also last longer and likely be more comfortable. That said, incorporating the right features into your camping chairs can improve your experience tremendously.
The Cabela's Big Outdoorsman Chairs
Cabela's Big Outdoorsman line up chairs and loungers headline the options for family camp seating. The Big Outdoorsman line is so comfortable and functional, in fact, that they could very well become your go-to outdoor chair—whether you are camping or not.
Made of high-quality material and featuring a great combination of durable fabric and support, the Big Outdoorsman is available in a number of configurations. The line features large seating areas, thick padding, high weight capacity, powder coated steel hardware and hard arms—that are perfect for helping older campers get into and out of the chairs.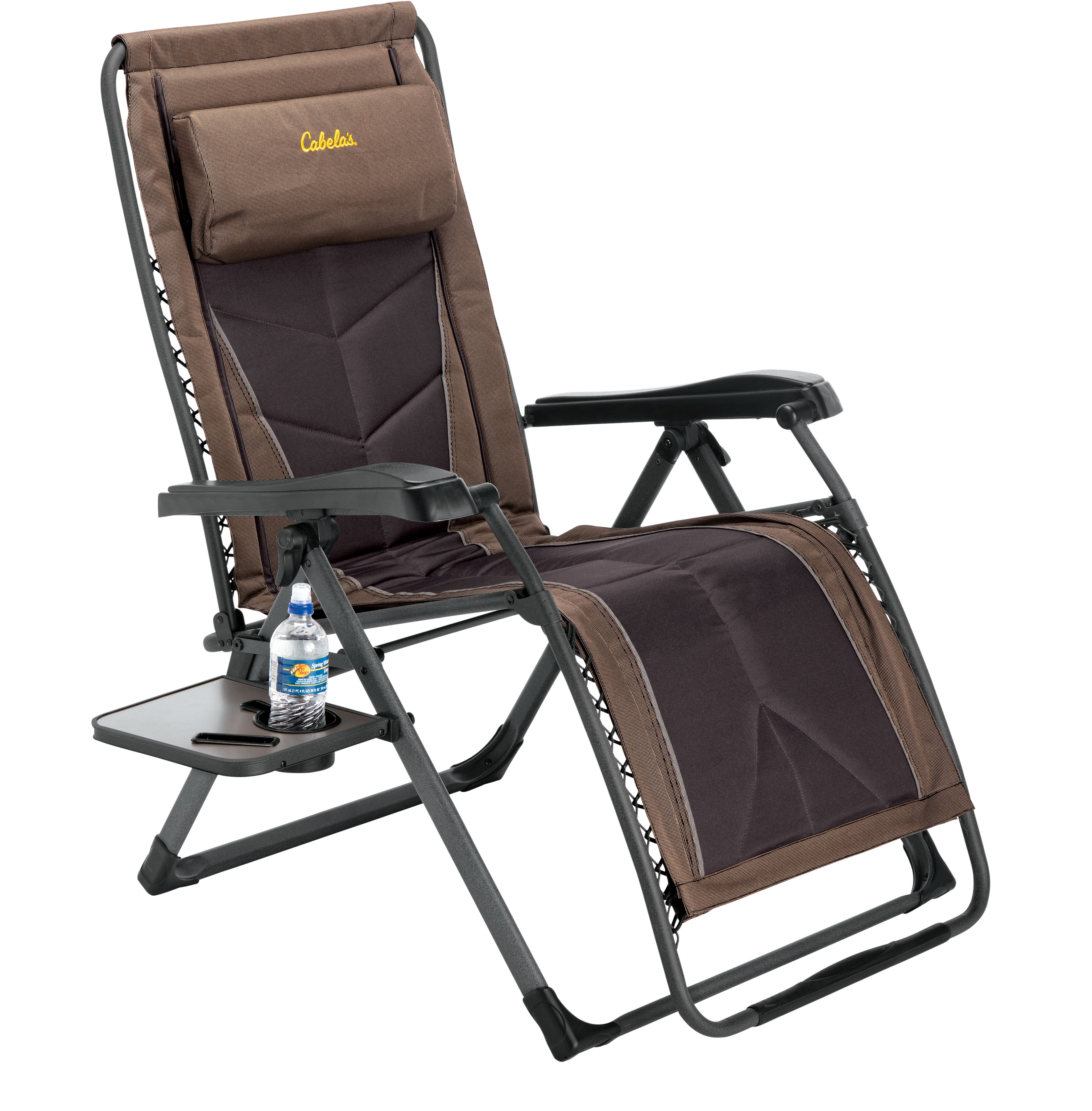 The Big Outdoorsman Lounger redefines comfort in the outdoor chair space.
The lounger is a great choice for family camping. Just position the chair in the shade of a tree or pack it down to the riverbank and you're ready for hours of comfort and relaxation in the outdoors.
The Big Outdoorsman Muskoka Chair is our take on the classic outdoor chair. The chair's wide back and seating area (22") are designed for comfort. It's 600-pound weight capacity makes it one of the highest rated chairs on the market. This capacity is ideal for big outdoorsmen or a pile of little or medium sized ones.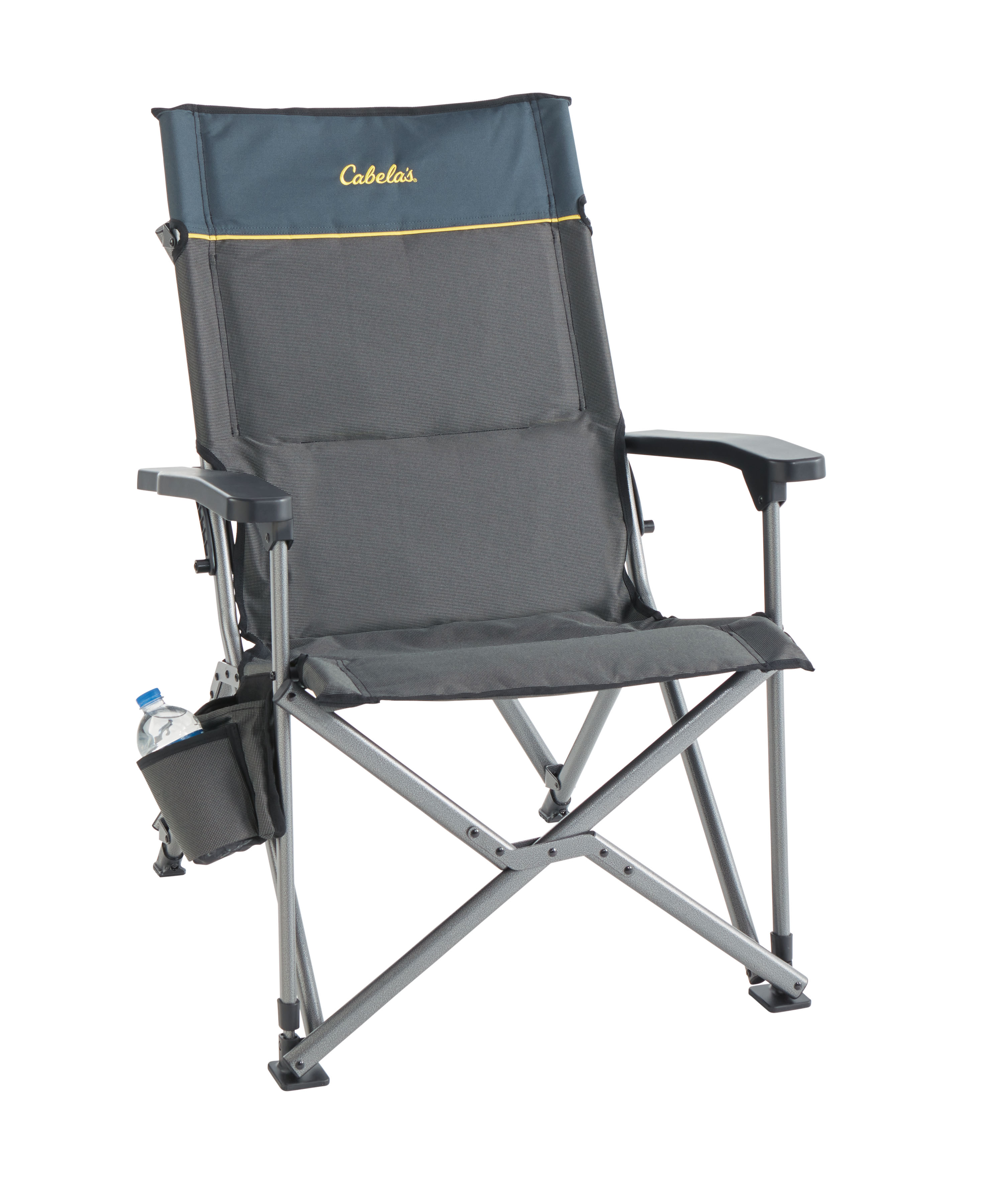 The Big Outdoorsman Muskoka chair.
The Big Outdoorsman line up is comprised of a variety of well-built, comfortable models. A few of our other favorites include the XL fold-up chair, the Big Outdoorsman rocker, the Big Outdoorsman Director's Chair (with side table), and the Hard Arm Recliner Fold Up chair. These chairs are great for not just camping, but seating for any outdoor occasion--- picnics, concerts, kids' sports practice… you name it. They are built to last and be comfortable for years of outdoor recreation and relaxation.
Bass Pro Shops Line Up of Family Camping Chairs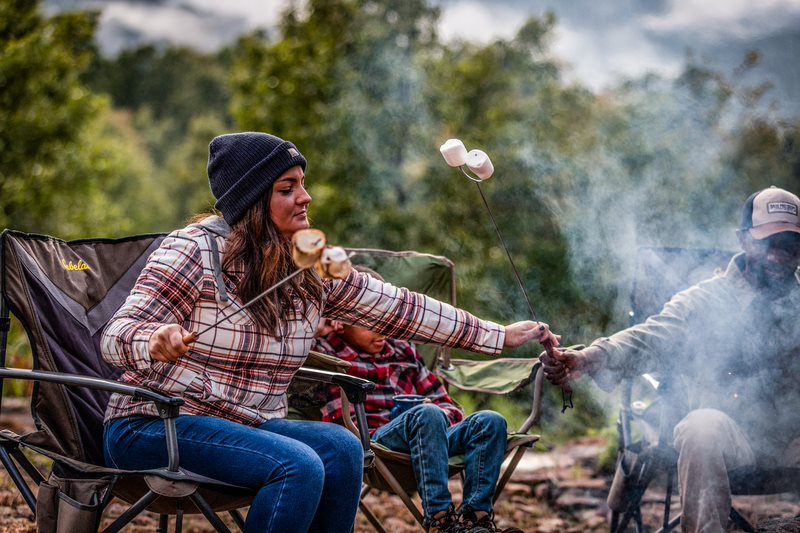 Bass Pro Shops features a variety of great camping chair options. From the tried and true foldable camp chair to more feature rich chairs, including the XL Padded Club Chair and the  Mesh Back Canopy Chair (a foldable chair with a built, adjustable height sun awning), the Bass Pro Shops line of camp chairs is specially curated to provide value and comfort.
The Eclipse Camp Chair for Kids is a great addition for the junior camper. Not only are these seats sized to make kids more comfortable, but they are accessibly priced. Kids love accessories. Buying a kid his or her own special camping chair is a great way to invite them to be part of the adventure.
Hammocks
Part chair, part bed, part tree swing, perhaps nothing says camping fun quite like a hammock. Bass Pro Shops and Cabela's offer a number of great hammock options.
To hang your hammock, just find two trees that are substantial enough to withstand the weight of suspending a napper or two. You can pick up a section of rope or opt for one of our easy and versatile hammock hanging kits.
One Person Hammock—Grand Trunk Ultralight 
Two Person Hammock—Eagles Nest Outfitters DoubleNest Hammock
Matching Chairs with Accessories
With its diversity of sizes, features, capacities and price points, Bass Pro Shops and Cabela's line up of family camping chairs allows you to precisely outfit your situation for the needs of your family. You can then pair your seating arrangements with other great campsite gear.
Wagons are great for helping trek your equipment to and from the campsite. We carry a variety of tables—from roll top dining tables and compact trifold tables to folding aluminum picnic tables and  camp chair end tables. The Cabela's Deluxe Camp Kitchen can bring some of the comforts and organization of your kitchen to your campsite ( or tailgate).
While there are more options than we can list here, the takeaway is simple. Bass Pro Shops and Cabela's carries everything you need for camping and outdoor recreation. By offering the widest selection of outdoor products in the industry, sold by the most knowledgeable outfitters that you'll find anywhere, we've been helping families spend time together in the outdoors for 50 years.