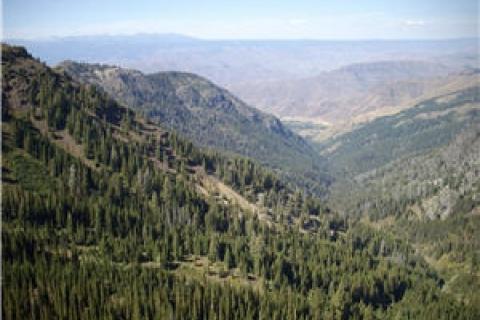 For my outdoor activities I've got to have five different types of footwear with 75 percent of the wearing time going to my hiking boots. When I think of hiking boots, I'm thinkig boots I'm going to use for everything, from spring bear hunts, summer backpacking trips and on into my early fall hunts until the snow flies.


Leather hiking boots have been popular for years but a few decades ago canvas hiking boots hit the scene. They're light weight, dry out fast and make good hiking boots. In those days I always bought a cheap pair which would wear out in one, maybe a max of two years.


Since those days I started buying good hiking boots. So in all actuality it will cost about the same whether you wear cheap boots or good ones. You'll  spend X amount of dollars on three pairs of cheap boots that last 3-5 years or the same amount of money on one good pair that will last 3-5 years. The only difference is, you'll be wearing junk if you buy cheap boots.


I met Kim Emery a few years ago at the SHOT Show. She markets for Irish Setter and taught me a lot about what to look for in a boot. The last few years I've been wearing strictly Irish Setter boots.


Here are five key features to look for in a hiking boot and why they are important for outdoor trekking.


Lightweight — I hit it hardcore so the lighter the boot, the easier it is. But it's a double edged sword. It's hard to construct a durable boot and it still be light weight. For a light boot, check out Irish Setter's Vapr Trek's. 


Ankle support — When I'm elk hunting, backpacking or exploring, I'm in bad country. I need good ankle support, especially when carrying a loaded backpack in rough country. So I like 6-inch boots, while 8-inch provide even more support.


Traction — You do not want a slick bottomed boot. You need good traction so you don't fall.


Eyelets — This may sound trivial but it is a lot easier to strap on a pair of boots if the top three eyelets are hooks.


Toes — I love the new canvas boots but they need to have either leather or hard rubber toes to prevent them from wearing out too fast.


Feel — Like all footwear, if they don't feel right in the store, it's not going to get better in the field. Also, don't buy a pair of boots and right away go on a Bataan Death March. Wear them to the store, church or walking the dog for a couple of weeks to break them in.