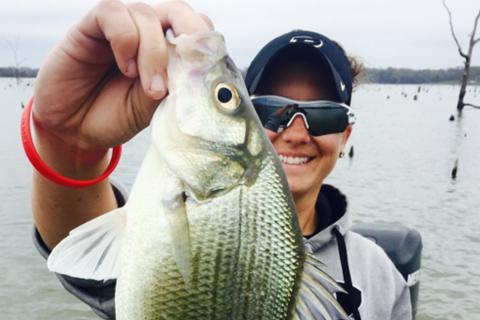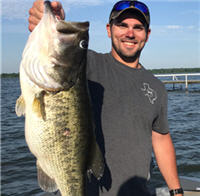 Lake Fork is regarded as one of the premier largemouth bass fisheries in the state of Texas and for the entire country. Created in 1980 by the Sabine River Authority, the lake provides ample cover for largemouth bass. The three main sources of cover on the lake are; standing timber, hydrilla and creek channels. The lake is very productive and has an abundance of forage species.
Bass grow very large in the lake and numerous 13-plus pound fish have been caught. Fork receives top priority for receiving stockings of Florida strain largemouth bass in Texas.
The lake also holds good populations of crappie and catfish. Although bass receive the most attention from anglers, these two fisheries can provide ample action. The black crappie tend to be more susceptible to angler harvest. Channel catfish are the most common of the three catfish species that anglers will catch.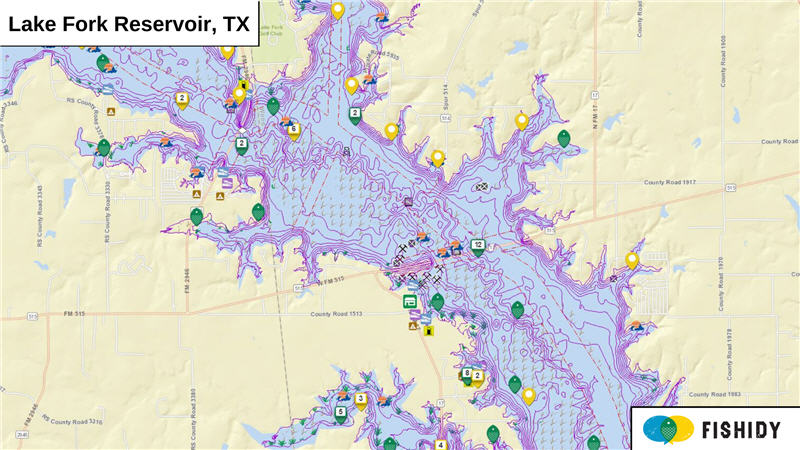 5 Tips for locating and catching fish on Lake Fork Reservoir: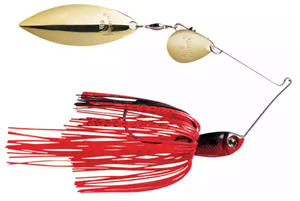 1. Warming water in late February through mid-April marks the time for anglers looking for largemouth bass to throw red crawdad-colored Rapala Rattlin' Rapalas and spinnerbaits with red bodies, red skirt and even red blades. A twitch style jerkbait, like a Smithwick Suspending Rattlin Rogue, is a favorite this time of year.
2. Topwater baits and lures can be very effective during April and May for largemouth bass. Zara Spooks, Wood Choppers, Storm R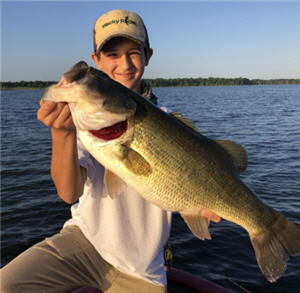 attlin' Chug Bugs, Pop-R's and buzzbaits are hot baits. The bite is generally the best early and late in the day but on overcast days, these baits will work all day.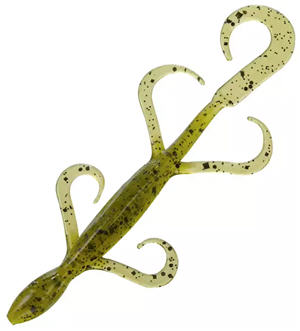 3. Flooded timber, many offshore ridges, underwater humps, and old creek beds will all hold bass in summer. Carolina-rigged watermelon-colored lizards and centipedes should be used. A ¾-ounce chartreuse and white spinnerbait with a number 5 or 6 willowleaf combined with a number 2 or 3 Colorado blade is another popular lure for catching deep water summer bass. Slowly work the spinnerbait just above the bottom.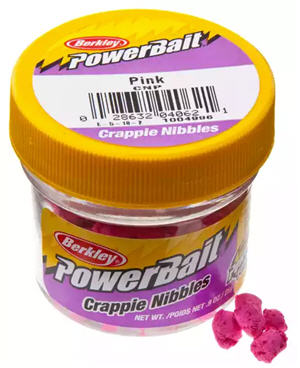 4. Spring is a good time to catch crappie in and around grass as well as brush piles found along wind-protected shorelines. Crappie Buster Jigs by Blue Ribbon Baits work well. Use jigs around 1⁄16 ounce in cinnamon/blue, blue/pink or chartreuse/pink. Try tipping Berkley PwerBait Crappie Nibbles onto the jigs to help catch fish. Small minnows tipped on a hook, fished below a slip knot bobber, also work well.