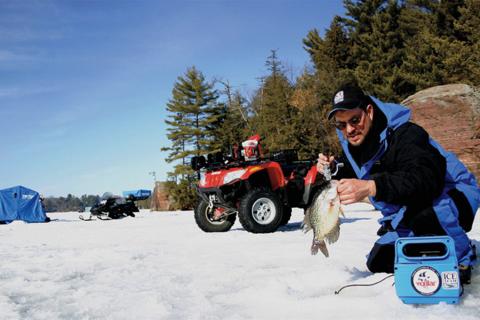 Whether stocking up your ice fishing jig box or perhaps shopping for an ice angler on your list, there are a lot of great lures for catching fish through the ice. The following is a look at new and trending ice fishing lures, plus some reliable standbys, to use when ice fishing for bass, walleye, crappie, yellow perch, lake trout, northern pike and more.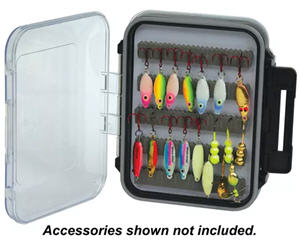 Baits With a Gliding Action Catch Fish Through the Ice
Lures that swim out and away from the ice hole are often a good choice. These baits move like a baitfish. They dart erratically and off to the side when snapped, then fall with a gliding, dying-minnow action.

The popular Rapala Jigging Rap lure is an original in this category. With over 95 reviews and an overall 4.5-star rating on www.basspro.com, you won't go wrong buying some.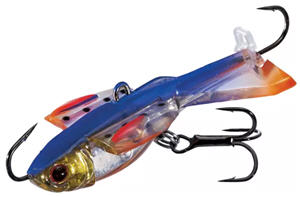 The highly rated by customers Acme Hyper Glide minnow bait is another pick. Its wings emulate fish fins and give it a natural swimming motion. The Custom
Jigs and Spins Rotating Power Minnow, Lunkerhunt Straight Up Jig, the highly rated Northland Puppet Minnow, Phantom Lures The Tilly, and Rapala Snap Rap jigging lure with 4.9 stars on www.basspro.com are other options.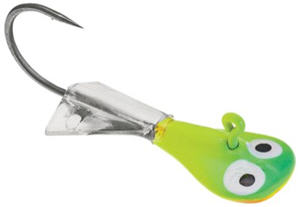 Extra tip: Specialty jigs, like Cabela's Glyde Jig and the Berkley Snap Jig, have plastic wings and give live-bait or plastic presentations a gliding swim.
Use Glow Baits in Low Light & Dingy Water to Catch More Fish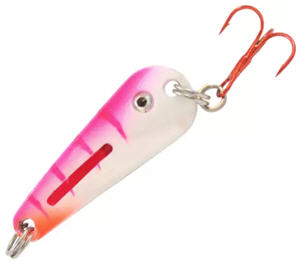 Glow baits have long been popular among ice anglers. In murky or deep water, and during lowlight conditions, luminescent lures appeal to walleye, crappie, and other species. Trending is the use of glow sticks, as seen in the 13 Fishing Flash Bang Spoon, Lindy Glow Spoon, and Northland Glo-Shot Spoon. These baits deliver a continuous, bright glow, eliminating the need to recharge glow paint with an LED flashlight, and that means more jigging time for catching fish.
Extra tip: Be prepared with extra replacement glow sticks for your glow baits.
Rattle Spoons Attract Fish & Trigger Hits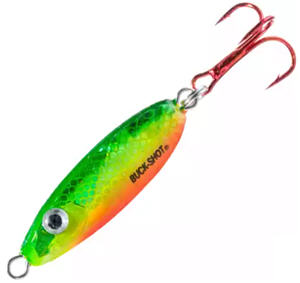 A rattle jigging spoon is another dependable ice lure. The Clam Rattlin' Blade Spoon now has noisy Pyrex glass rattles for more fish-attracting power. The super popular Northland Buck-Shot Rattle Spoon with a 4.8 star rating is an oldie but a goodie. Another is the Lindy Rattl'n Flyer Spoon that pumps out sound and has a smooth gliding action. The VMC Rattle Spoon and Maynards 2 Banger Rattler Spoon are other examples.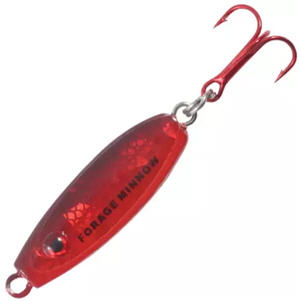 Extra tip: While rattle spoons consistently catch fish, don't overlook non-rattling versions. Less noise is sometimes better for inactive, fussy fish. Carry a selection of spoons, including straight (e.g., Northland Forage Minnow), slab (e.g., VMC Flash Champ), flutter (e.g., Clam Leech Flutter) and high-action (e.g., Custom Jigs and Spins Slender Spoon).
Flapping, Flickering Blades Give Spoons a Unique, Strike-Generating Action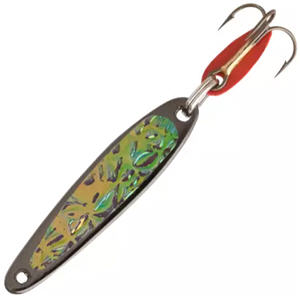 Another theme in ice baits are spoons outfitted with attractor blades. When these blades swing on the split ring and hit the spoon or hook, they produce a sonic stimulus different from rattles. More, light shakes and quivers give attractor blades a subtle flash that onlooking fish can't resist. Bay de Noc's Swedish Pimple jigging spoon rated 4.8 stars by customers is an original, while other good options are Clam's Pinhead Mino spoon, Lunkerhunt's Tungsten Icy Glide Spoon, and VMC's Tumbler Spoon.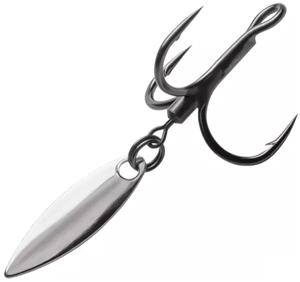 Extra tip: Boost a lure's flash by replacing its regular hook with VMC's new Bladed Hybrid Treble hook, featuring a resin-sealed swivel and blade.
Lipless Crankbaits Catch Big Fish on Ice
The fish-catching firestorm of lipless cranks has been raging for years and shows no sign of dying down. These lures flat-out catch giants. Perhaps it's their horizontal, minnow profile? Or, maybe it's their seductive wobbling action and vibrations? Whatever the reason, every angler needs some of these baits.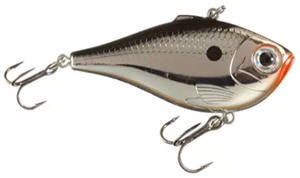 The Rapala Rippin' Rap is a proven choice in this category and deadly for attracting and triggering big walleye, lake trout, and northern pike. Look to the Ultra Light Rippin' Rap and slow-falling Rapala Slab Rap for finessing walleye and whitefish, or fooling big crappie and jumbo perch.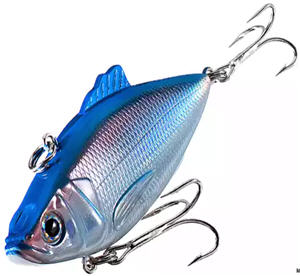 The LIVETARGET Golden Shiner is another deadly winter bait with a track record of catching giant walleye from Lake Winnipeg and other trophy fisheries. The widely popular Bass Pro Shops' XTS Rattle Shad, Northland Rippin' Shad, and Yo-Zuri Rattl'n Vibe and Rattl'n Vibe Mini are other baits worth tying on.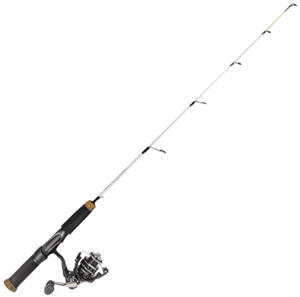 Extra tip: Lipless crankbaits frequently trigger aggressive, rod-jarring strikes — a jig with a sturdy blank and, when space allows, a long stick. For large fish, consider the 32", 34" and 38" Frabill Ice Hunter Predator Ice Spinning Rod & Reel Combos.
Every Ice Angler Needs Fishing Jigs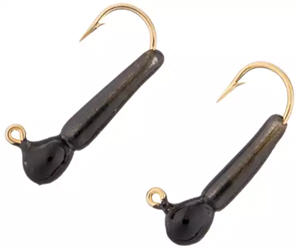 Jigs are common when presenting plastics or live bait. Sunfish, perch and crappie anglers should have a mix of profiles and hook orientations, including horizontal jigs with a 90-degree angle (e.g., VMC Pug Bug, the Custom Jigs brand and Spins Ratfinkee or Lindy Fat Boy) vertical ones (e.g., Clam Blade Jig or Lindy Frostee) and jigs with a 45-degree angle profile (e.g., Clam Drop Jig or Custom Jigs and Spins Gill Pill), for improved hook-ups of nibblers.
Lead and tungsten jigs are most common. Lead is an affordable, traditional standby. Compared to tungsten, lead provides a more significant profile and has a different sound when banged on rocks.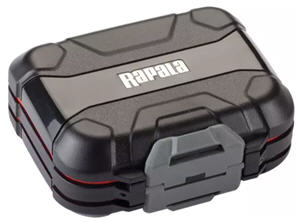 Tungsten is denser, which lets anglers fish heavy when downsizing or maintain a lead-equivalent profile with added mass. Tungsten is a must for deep water.
Other jig heads can be used beyond ice-specific jigs. Tube jig heads work for these plastic profiles, while round or aspirin shaped jigs pair well with live or artificial minnows.
Extra tip: Keep ice jigs secure and organized with a Clam Armour or Rapala jig box. Available in a range of sizes, they fit in outerwear pockets, allowing anglers to carry baits while hole-hopping.
Broadening Your Plastic Collection Provides More Options for Fooling Fish
A reoccurring theme emerges on conversations with the best ice fishing guides and tournament anglers across the ice belt.  The reliance on finesse plastics instead of live-bait in a lot of situations. Many believe not learning to use the latest generation of quality plastics costs anglers fish, especially big ones.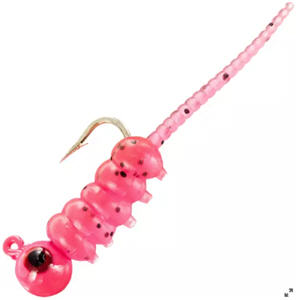 While finesse tailed baits, like the Bass Pro Shops Extreme Ice Arctic Angler Hat Trick Jig, and minnows are popular, multi-appendage profiles are hot right now for panfish. Samples include the 13 Fishing Coconut Crab, Clam Pro Tackle Maki Jamei and Matdi, Lunkerhunt May Bug, and Northland Impulse Mayfly.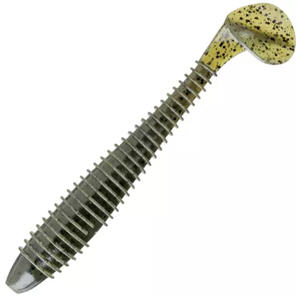 Anglers are also wise to raid their open-water smallmouth finesse plastics for the ice. As one example, swimbaits between 2.5" to 4" rigged on a jig head are deadly for lake trout. The always popular and highly rated Bass Pro Shops Speed Shad, another popular and highly rated bait is the   Berkley PowerBait Ripple Shad, and B-Fish-N AuthentX Series Pulse-R are just a few notable swimbaits.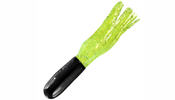 Extra tip: Tubes remain reliable for ice fishing. Anglers who target trophy jumbo perch and slab crappie should have some baitfish colored versions of the 2-1/4" Bass Pro Shops Magnum Squirt.
Slightly longer and bulkier than most ice-fishing finesse tubes, the Magnum Squirt bypasses pint-sized panfish and appeals to the giants in the school.
Without question, there's no shortage of great ice fishing lures on the market. As the saying goes, variety is the spice of life, but it's also a good strategy for one's tackle collection. Carry a mix of vertical and horizontal profiled hard-baits, along with bulky, as well as finesse plastics, to be prepared for this ice fishing season.
Shop Bass Pro Shops & Cabela's - Your Ice-Fishing Headquarters