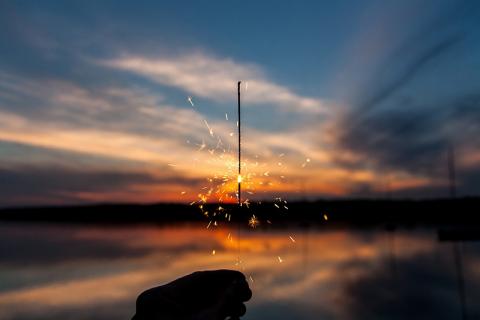 As the hustle & bustle of the holidays starts to quiet down, a new year begins peeking over the horizon. This is often the perfect time to reflect on past hunting seasons and fishing memories made. It's also a great opportunity to create new goals, break bad habits, and plan a new adventure.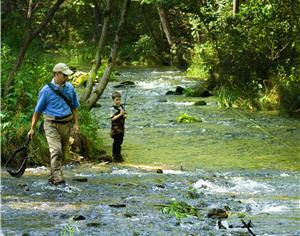 While most New Year's Resolutions involve balancing the checkbook or strapping yourself to a treadmill, we decided to compile a few suggestions that might actually survive past February 1st. Here's a list of New Year's Resolutions designed with Hunters and Anglers in mind:
1. Take a First-Timer Hunting or Fishing
Remember the excitement you felt when you shot your first deer or hooked into that first trophy bass? There are plenty of kids (and adults) around the country who have never had the chance to experience the great outdoors.
Whether it's your own child or the neighbor down the street, resolve to take someone new afield with you. Passing on the tradition is one of the most important things we can do to preserve the things we love. Be careful, you just might find that seeing them have success is even more enjoyable than doing it on your own!
2. Organize Your Hunting & Fishing Gear
How many times have you missed an opportunity or declined a last-minute invite simply because your pile of gear was not ready for action? Spend time this offseason maintaining, organizing, and streamlining your hunting gear or fishing tackle. Even if it costs a little more up front, you'll save money in the long run—and earn a lot more memories.
3. Try a New Wild Game Recipe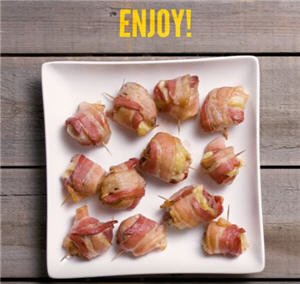 When it comes to gear and tactics, we will try every little thing to gain an edge—but when we get in the kitchen, many of us stick to the tried-and-true methods we've been using for years. Make a vow to branch out and try at least one new recipe when cooking your fish or wild game this season—you may find a new favorite. Be sure to check out the Cook With Cabela's site for tips, tricks, and new ideas! Here's a Bacon-Wrapped Duck Reuben Bite Recipe from the Cook With Cabela's team good for anytime of the year
Bacon-Wrapped Duck Reuben Bite Recipe
Ingredients
3-4 wild duck breasts

2 cups water

1 TBSP pickling spices

4 tsp Kosher salt

2 TBSP sugar

1 tsp granulated garlic

1 tsp black pepper

1/2 tsp crushed red pepper flakes

12 strips thin-sliced bacon

1 cup sauerkraut

4 slices Swiss cheese
 Steps to Prepare Bacon - Wrapped Duck Reuben Bites
1. Pour water into medium bow. Add pickling spices, Kosher salt, sugar, garlic, black pepper and crushed red pepper.

2. Trim fat and silverskin from duck breast. Cut meat into bite-sized portions. Place duck into Marinator and add brine.

3. Cut meat into bite-sized portions. Place duck into Marinator and add brin. Seal Marinator and refrigerate for 24 hours

4. Seal Marinator and refrigerate for 24 hour. Fill smoker's hopper with Cabela's BBQ Wood Pellets.

5. Preheat grill to 400. Bring water to a boil and add marinated duck

6. Boil one minute, reduce to medium heat. Poach for five minutes

7. Transfer to paper towel-lined plate. Cut Swiss cheese into thirds. Top each duck bite with sauerkraut

8. Wrap with 1/3 slice of cheese and bacon strip. Secure with toothpick and place on appetizer grid. Repeat until all duck is wrapped.

9. Place in grill, let cook for 20 minutes, remove from grill and enjoy!
Watch Video on how to make Bacon - Wrapped Duck Reuben Bites
4. Learn a New Skill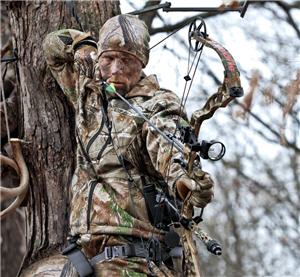 Whether you're an old dog or a young pup, we can all learn new tricks. Devote yourself to picking up a new skill or method this next year. It could be something as simple as fishing a football jig, or an entirely new pursuit, like bowhunting. Even if you don't have immediate success, the experience will make you a better hunter or angler.
5. Make a Habitat Improvement
If you love the outdoors, it's your duty to protect the health and habitat of the wildlife you pursue. Don't worry if you don't have time to plant food plots or sink brush piles—simply spending a few minutes picking up trash can go a long way.
No matter your passion, there's a conservation organization designed to support it. Strongly consider joining or donating to make an impact that may outlast your lifetime.
6. Practice One New Healthy Habit.
Don't worry, we won't mention a treadmill again, but let's face it: the longer you live, the more you'll get to hunt and fish. Plus, the mountains aren't getting shorter and waves aren't getting smaller anytime soon.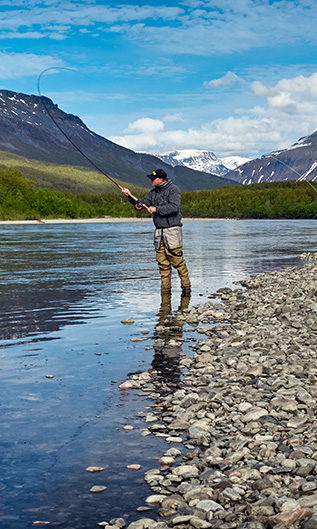 Promise yourself that you'll develop at least one healthy habit this year. It could be as complex as an entire workout routine, or as simple as trading that Snickers for an apple on the way out of the house.
7. Plan a Trip to Another State
We only have so many years on this giant spinning rock, don't spend all of yours in the same spot. Take the time to venture out of your comfort zone, even if it's only for a few days. Most states offer relatively inexpensive temporary licenses or small game tags, so don't let a low budget deter your trip. Exploring new territory is sure to teach you new lessons you'll quickly apply on your home turf. Check out the Cabela's Outdoor Resources Page for helpful info before planning your trip.

Tip: 5 Great Crappie Fishing Destinations in the United States
8. Find a New Fishing or Hunting Spot Close to Home
In your new-found wanderlust, don't forget to explore your own backyard. Many people drive right past the best hunting and fishing spots on their way to work, without even knowing they exist. Take the time to study some plot maps and knock on a few doors—your new honey hole might be right down the road. Click here for Tips on Finding Next Season's Fishing or Hunting Hotspot.
9. Encourage Other Hunters & Anglers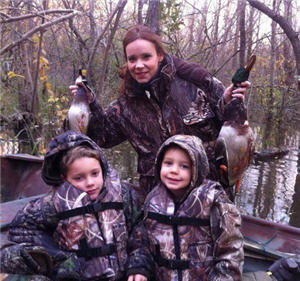 Hunters and anglers are naturally competitive, it's part of the will that drives us to succeed. While a good-natured ribbing of your buddies certainly has its place, don't forget to holster that competitive spirit when dealing with others.
The outside world is already too full of criticism, envy, and people getting offended. Anti-hunters and animal rights activists are licking their chops at the chance to divide and conquer the outdoor industry. As long as it's ethical and law-abiding, take the time to support other hunters and anglers. You never know who's listening.
10. Carry a Piece of History
From the latest broadheads to revolutionary baitcaster reels, we all love trying out new hunting and fishing gear. In our hurry to experience the new cutting-edge, we sometimes forget the traditions that got us to this point.

Tip: Shop Archery gear here

Tip: Shop Fishing gear here
On at least one outing this year, bring a piece of history along with you. It could be your grandfather's gun, an heirloom knife, or an old lure you haven't tied on since you were 10. You may be surprised how the memories, and a little luck, come flooding back.
Whether you choose just one—or decide to tackle all ten—taking the time to reflect on past seasons and plan for the future could be the first step to your most rewarding year yet!