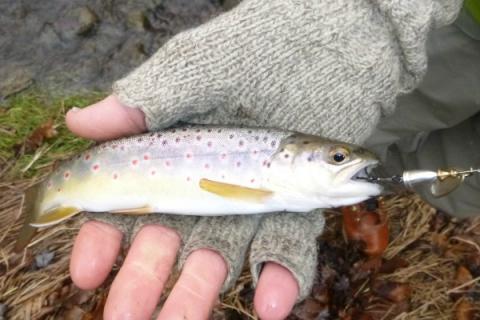 Here in northwestern Pennsylvania it's the time of year when you take advantage of whatever outdoor opportunities present themselves.  If something is in season and the weather decides to cooperate, you jump at the chance to get out of the house. When the often whimsical conditions finally paired an above-freezing day with nice flows in area waters, my friend Dave and I decided to spend the afternoon prospecting a wild trout stream.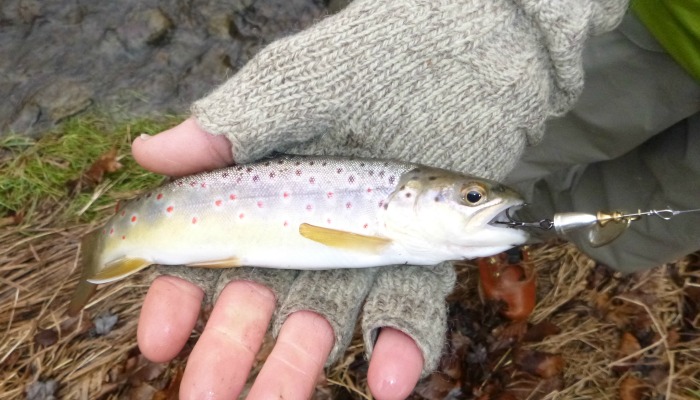 Wild winter trout can fall for the slow, steady vibration made by

inline spinners

—especially after a pin-point cast.
I took my 7.5-foot four-weight fly rod; Dave a light action 6-foot spinning rod.  I was confident I could coax a bite or two in the 35 degree water by drifting a nymph, egg pattern, or by working a Woolly Bugger tight to the bank.  Dave opted for a small spinner.


During the two-and-a-half hour outing Dave experienced all the action, landing three lovely stream-bred browns and rolling several others.  On the ride home we discussed the day's events, theorizing on why the spinner, a seemingly more aggressive lure, had outperformed more subtle presentations.  We decided on a few reasons a spinner is more effective for stream prospecting:


1.    On brushy creeks, like the one we were fishing, it's often difficult to get the first cast in tight to the cover with a fly rod.  In many cases only a roll cast is possible, and it sometimes takes an extra cast or two to work out enough line to put the fly in the sweet spot.  By then the ever-alert wild brown trout may have been spooked. A talented caster with a short spinning rod has a much better chance of putting their first cast right on the money.


2.    Dave had his best success with spinners that feature a blade designed to produce extra noise.  It's feasible that this added attraction summons up strikes from cold water trout. He's particularly fond of Blue Fox's Vibrax spinner, in size 1.  The Panther Martin is another spinner that has such a "sonic" blade.  


3.    Spinners allowed Dave to keep the presentation slow and steady.  The blade provides natural lift and resistance, keeping the bait's movement deliberate in the water column. When the water's on the verge of freezing is no time to add extra action.  Making the spinner easy to eat was key.


4.    The spinner was not just a good fish catcher; it was a good fish locator.  When you're prospecting for trout (as Dave and I were on this new-to-us water) a spinner is likely to get trout to show themselves by following or rolling at the lure.  Since we now know this stream has a decent population of wild brown trout, you can bet we will be making a return visit.  Only next time Dave won't be the only one with a spinner tied on.